HONDA EB6500 GENERATOR 6500 WATT 120/240V
The Honda EB6500 is a great tool to have around the house
The Honda EB6500 Generator is a powerful and reliable machine designed for industrial and commercial use. With a maximum output of 6500 watts and a running output of 5500 watts, this generator is capable of powering multiple tools and appliances simultaneously, making it ideal for job sites, emergency backup power, and outdoor events. Powered by a Honda GX390 engine, the EB6500 is built to last with a sturdy frame and heavy-duty wheels for easy maneuverability. It features a large fuel tank that can hold up to 6.2 gallons, providing a run time of up to 10.4 hours at 50% load. The generator also includes an automatic voltage regulator (AVR) that ensures stable power output, protecting your sensitive electronic devices from power surges and drops. The control panel of the EB6500 is user-friendly, with all the necessary outlets and switches clearly labeled for easy operation. It includes four 120V outlets, one 120/240V twist-lock outlet, and a circuit breaker for added safety. The generator also comes with a ground fault circuit interrupter (GFCI) that protects against electrical shocks. Whether you're running power tools on a job site, keeping the lights on during a power outage, or powering outdoor events, the Honda EB6500 Generator is a reliable and durable solution that you can count on. With its powerful engine, long run time, and user-friendly controls, it's the perfect generator for all your industrial and commercial needs.

AC Output

120/240V 6500W max. (54.1/27.1A) / 5500W rated (45.8/22.9A)

iAVR Output

7000W (58.3/29.2A) for 10 sec.

Receptacles

20A 125V GFCI Duplex (2), 30A 125V Locking Plug, 30A 125/250V Locking Plug

Fuel Tank Capacity

6.2 gal.

Run Time per Tankful

6.4 hr@ rated load, 9.8 hr @ 1/2 load

Dimensions (L x W x H)

41.4"x27.8"x30.4"

Noise Level

67 dB(A) @ rated load, 64 dB(A) @ 50% load

Residential Warranty

3 Years

Commercial Warranty

3 Years

CA Compliant

Not for sale in California
Instore Pickup-  Pickup at our store in New Philadelphia, Ohio

Procore Delivery -  Delivery to your home or business the equipment will be ready to use unless otherwise noted.

Freight and free freight delivery.- This will be delivered via a freight truck.

Ground shipping and Free ground shipping.-We use Ups,Fedex and usps.
View full details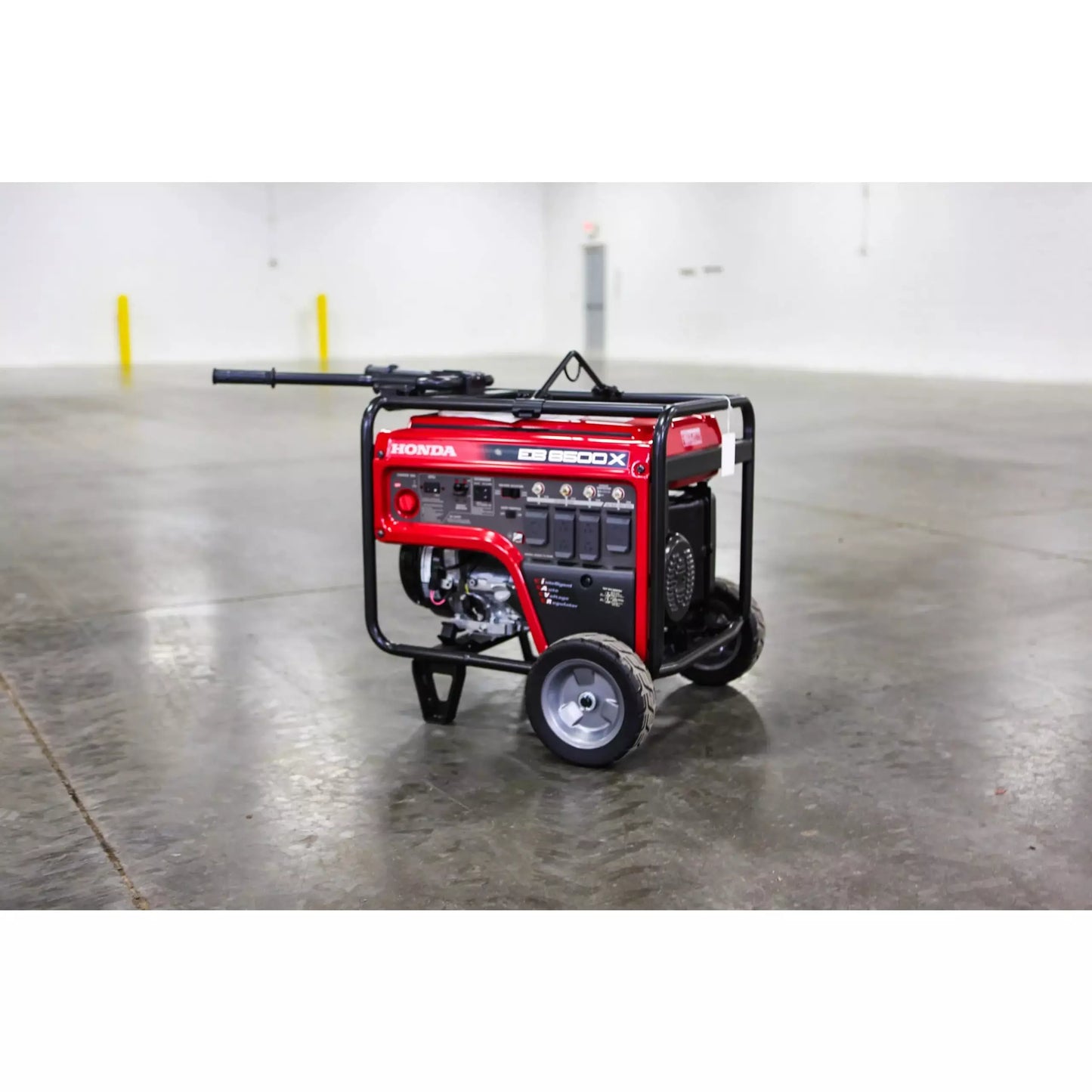 HONDA EB6500 GENERATOR 6500 WATT 120/240V
We are a medium sized dealer with a massive love for equipment.